Episodes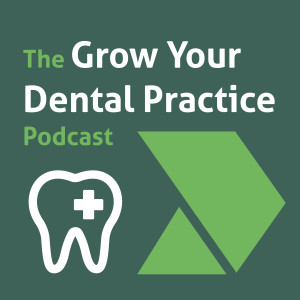 Wednesday Mar 13, 2019
Wednesday Mar 13, 2019
In this episode of the Grow Your Dental Practice Podcast, host Mohamed Ismail talks with Darren Shanahan, Broker, Founder & Transition Expert at Avail Dental Exit Advisory Services about brokering an existing dental practice. Avail Dental Exit Advisory Services has worked with hundreds of dentists helping them purchase already-started dental practices, and today on the podcast Darren and Mohamed discuss the role of a dental clinic broker, whether you should build or buy, the different roles in a practice purchase scenario, due diligence practices and what you need to think about before proceeding. If you're thinking about purchasing an already existing dental practice, this episode is for you – and if you're not, there's still a ton of meaningful information that will help you start or grow your own dental practice.
In this episode Darren and Mohamed discuss:
The benefits of drawbacks of building your own dental clinic from scratch versus purchasing an already established clinic with steady cash flow. If you're planning on building a clinic from scratch, two important things you're going to need to keep in mind is that the wait for patients can be a long one. Darren shares that "waiting for patients to come in can be one of the biggest demons that someone struggles within the first six months." Then there's the probable need of working extended hours to be accessible to your new patients. However, when it comes to purchasing an already built clinic, the cash flow and patients already exist.
The valuation process for an existing clinic. What they look at, how they evaluate it and what's important – everything from cash flow to profitability, equipment available, and other external facts that impact the bottom line.
The current market conditions in different Canadian cities. When it comes to purchasing or building a clinic from scratch, the current market conditions have a lot to say about where you want to go, and one of the things you need to look at is rural versus urban markets.
The two-fold role of a broker during the purchasing process. Brokers not only conduct an evaluation and an assessment of an existing practice, but they make sure everything is set-up and ready for a buyer.
The actual process of purchasing a dental clinic. Purchasing an already established dental clinic isn't as easy as just walking in and handing over a cheque, buyers have a chance to tour around a clinic and learn about the clinic before making an offer. And that's when the real negotiation starts.
Who all is involved the sale of a dental clinic. It's not just a broker, but other parties work together to secure the purchase of a dental clinic – lawyers, accountants and bankers all have a role to play.
The due diligence process a potential purchaser needs to go through. Part of the due diligence of purchasing a dental clinic is making sure the current dentists output matches what you can do, ensure you're on board and aligned with the type of dental practice that already exists which the patients are already accustomed to and all the other finer points of the clinic are up to part.
The ideal dental clinic transition. Once the deal's done it's time to transition the clinic from the former dentist to the new owner. A good, smooth transition means working with the previous owner and staff to make the transition as smooth as possible for the patients.
Hear the full interview by listening to the episode.  
The Grow Your Dental Practice Podcast is hosted by Mohamed Ismail, founder of Shift Accounting. Mohamed is a cloud accounting expert and business advisor that works with dental and medical professionals. Shift Accounting is a Canadian digital firm that help their dental and medical clients reach their financial goals with their superior business consulting and bookkeeping services. Shift provides clients with financial insights that help them improve their profitability and achieve their goals faster.
This episode was sponsored by Xero, a cloud-based accounting software that Shift Accounting uses for all their clients.
If you enjoyed this episode, please rate and review us on your favourite podcatching app. You can find more information at Shift Accounting by visiting www.shiftacct.com or reach out to Mohamed Ismail directly at info@shiftacct.com. This episode of the Grow Your Dental Practice Podcast was edited and produced by Tae Haahr. Its theme music "Happy Energetic Indie Rock" by Xena_Ann is licenced through Audio Jungle.